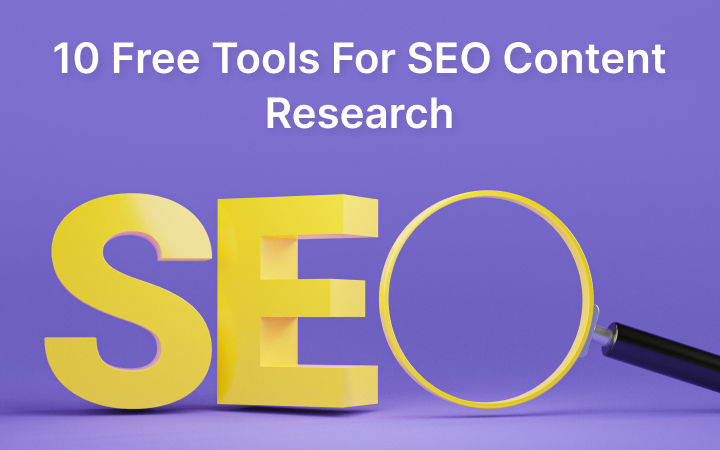 Introduction
The method of optimizing your website's content for search engine results pages is known as search engine optimization (SEO). The most important part of SEO is keyword research, which entails choosing the most relevant and widespread search terms for your content. Fortunately, you can identify these keywords and optimize your content using different types of paid or free SEO tools.
But what are the most effective SEO tools? It is one of the most often-asked questions among SEO beginners. Here, in this article, you'll quickly review 10 of the best free SEO tools for content research and other SEO tasks. You will understand the importance of leveraging the right SEO tools to make your efforts count and improve the rankings of your website.
Although many free and paid tools are accessible, finding the best ones is significant. Let's get started with a list of free SEO tools for content research that you can utilize without spending any money. These tools are used by a large community of digital marketers and SEOs, which will provide useful information regarding backlinks, keywords, spam scores, website analysis, and much more.
Google Keyword Planner
Google Keyword Planner should be your first selection when looking for the right keywords for your content. It has Google ads included, but you can use it for free. You can easily do keyword research for your niche using the free Google Keyword Planner tool. It gives data regarding search traffic, competitiveness and offers bids for each keyword.
You can enter multiple key phrases in one go and receive several keyword variations for your topic of choice, along with their monthly volume range and SEO difficulties. This tool will help you locate the most relevant keywords for your content. You might create a targeted keyword strategy to help your website rank higher on search engine results pages.
Google Trends
You can use Google Trends, a free tool, to track the steady rise in keyword popularity. The ranking of particular search keywords on Google and YouTube is shown through data and graphs. You could deliver content applicable to your audience at different periods of the year and learn about local geographic search trends.
Google Trends can help you discover what's been widely recognized recently and pinpoint trending subtopics within industries or overarching themes.
Keyword Tool
Keyword Tool is another excellent keyword research tool for search engines like Google and Bing, YouTube, Amazon, and social media sites like Twitter and Pinterest. It is a free execution that generates long-tail keyword ideas based on Google Autocomplete. It might help you identify low-competition keywords that are significant for your content.
You can get lists of suggested keywords with a free account, but a paid subscription will also provide information on search traffic and keyword difficulty.
Ahrefs
Ahrefs is a great tool for competitor analysis, website analysis, and keyword research. This free tool offers information on each phrase's possible traffic, difficulty, and search volume. It also demonstrates appropriate keyword phrases and helps you identify keywords for which your competitors rank.
Ahrefs includes everything you'll require for an SEO audit. It consists of various online tools, including Site Explorer, Site Audit, Keyword Explorer, Rank Tracker, and Content Explorer.
Google Search Console
It would be best, to begin with Google Search Console when analyzing your website for SEO. This free tool offers information on your website's performance in search engine rankings. You may use it to find the keywords that bring in the most visitors to your website and optimize your content to appear higher for them.
Once integrated, it will provide your site's organic performance, any coverage issues or problems with the rankings, a sitemap, a check for specific URLs being indexed, etc. Google Search Console also shows the number of clicks, impressions, CTR, traffic-generating keywords, newly submitted sitemaps and URLs for indexing, and more.
Yoast SEO
Yoast SEO is among the most widespread and reliable SEO tools, easily accessible. It is a free WordPress plugin that guides you on making your content more search-engine friendly. You can use it to find keywords and optimize your content to appear higher in search engine results.
Yoast SEO checks your pages and posts automatically for readability and SEO concerns. After that, Yoast shows "good results," issues, and areas for improvement at the bottom of the page. It can also save you precious time on optimization strategies as you won't need to use an external platform.
SEMrush
SEMrush is one of the most effective SEO tools for competitor research and website analysis. This free tool offers search volume, competitiveness, and CPC data for each keyword. It also offers ideas for relevant keywords and helps you determine the phrases that your opponents are ranking for.
You can see how well specific websites perform with their page rankings. It also reveals how a website's visibility on Google has changed over time and for which keywords. You can perform backlink analysis, compare your page rankings with your competitors, search for relevant keywords for SEO and PPC, and explore other features.
Ubersuggest
If you've ever searched for SEO or digital marketing guidance, you've probably found Neil Patel's website. This marketing professional offers useful freemium tools, such as Ubersuggest, to optimize your website.
Ubersuggest is a free keyword research tool that gives data about each keyword's search volume, competition, and cost per click (CPC). Plus, the tool provides recommendations for associated keywords that you can use to optimize the content you create.
A free account only allows for three daily searches; any additional searches require a paid subscription. Ubersuggest will feed you with a large list of keyword suggestions that you can utilize to give new product ideas, strategies for increasing organic traffic, the next blog post ideas, and more.
AnswerThePublic
AnswerThePublic is a free SEO tool used to discover content ideas. It shows information regarding the queries people are asking about a certain topic. Entering a keyword into the platform produces a complete list of the most popular related search phrases. It may be helpful for you in locating long-tail keywords and generating content that responds to inquiries posed by your target audience.
It's important to note that you receive all of the queries people use on Google and other search engines, which is its most noteworthy feature.
Moz
Moz is a widely recognized SEO and digital marketing tool. For the majority of tasks, it is free to use. But it asks for a subscription to get advanced and in-depth data.
Moz Keyword Explorer is a free tool that offers data regarding each keyword's search volume, complexity, and opportunity. It offers guidelines for comparable keywords and helps you identify phrases that are easy to rank for.
It is a versatile tool that can be used for competitor research, SEO auditing, monitoring the performance of top keywords across different search engines, eavesdropping on the backlinks with anchor text and DA of competitor websites, and conducting keyword research.
Conclusion
These are some of the top free SEO tools to help you successfully navigate your SEO efforts. You can use these tools to research the right keywords to audit your website, accomplish competitor analysis, optimize your content, and rank higher on search engine results pages. Using them, you can develop a keyword strategy to attract more traffic to your website and grow your online presence.
Several paid tools offer advanced and premium features to cater to most SEO needs, from keyword research to backlink analysis. Even so, certain useful tools were not covered here. If you want to learn more about those effective SEO tools, contact us now
We are trusted by over 650+ clients.
Join them by using our services and grow your business.
Request a callback