SAP Integration Company
77% of global transaction revenue comes through SAP. Tap into the power of SAP and optimize your business operations with our integration services. Manage operations better. Gain valuable business intelligence. Make growth oriented decisions.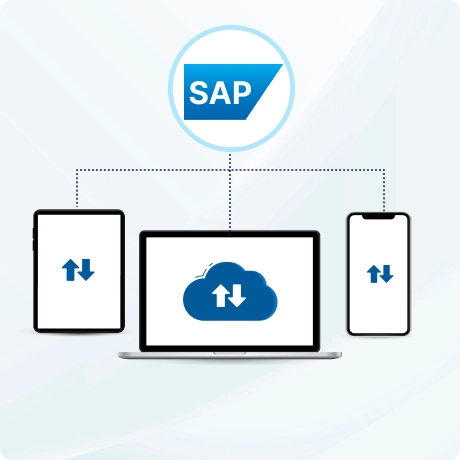 SAP Integration Services
Our SAP integration services provide a robust and streamlined connection between your existing systems and SAP applications. With our expertise in enterprise integration, we ensure smooth data flow, real-time synchronization, and efficient business processes across your organization. Our solutions empower you to leverage SAP's powerful capabilities while maximizing your existing investments and enhancing overall operational efficiency.
Our solutions empower you to leverage SAP's powerful capabilities while enhancing overall operational efficiency. Integrate your core business systems with SAP, enabling a unified and cohesive digital infrastructure. Our experts ensure a seamless and secure connection, allowing data to flow effortlessly between your systems and SAP applications.
Consult Now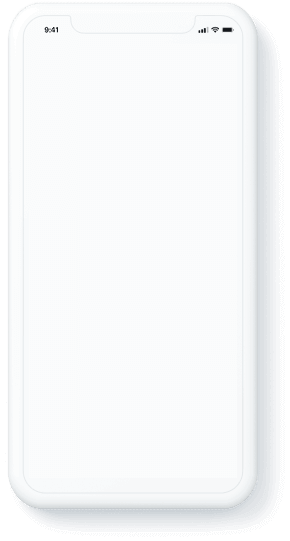 SAP for Service Sector
Transforming the Service Sector for Success
Streamline operations, enhance customer experiences, and drive growth. With seamless SAP integration across systems, we enable real-time data synchronization, empowering service providers to make informed decisions and deliver personalized services.
Enhance customer satisfaction, enable personalized offerings, and drive profitability, ensuring the service sector stays competitive and customer-centric in a rapidly evolving market.
SAP for Discrete Consumer Services
Powering up Consumer Services through SAP
Our SAP implementation revolutionizes consumer services by enabling seamless customer engagement, personalized marketing campaigns, and streamlined operations. Automate order management, enhance supply chain visibility, and gain real-time insights into customer preferences.
Deliver exceptional customer experiences, improve brand loyalty, and drive business growth in the consumer services industry through optimized processes and data-driven strategies.
SAP for Discrete Industries
Driving Operational Excellence with SAP
SAP implementation, by our experts, transforms discrete industries by optimizing production processes, inventory management, and supply chain operations. Streamline manufacturing workflows, improve demand forecasting, and enhance product quality.
Gain real-time visibility into operations, optimize resource utilization, and ensure timely delivery. Empower discrete industries to achieve operational excellence, improve cost-efficiency, and stay competitive in a dynamic market.
SAP for Financial Services
Maximizing Financial Sector Efficiency with SAP
Our SAP implementation service powers up financial services providers with comprehensive solutions for regulatory compliance, risk management, and customer engagement. Streamline financial operations, automate reporting processes, and enhance risk assessment and mitigation.
Gain real-time insights into market trends, optimize customer interactions, and drive personalized financial services. Improve operational efficiency, ensure regulatory compliance, and drive sustainable growth in the highly competitive financial services industry.
Platforms & Technologies We Use
Techniques for establishing SAP Integration Solution
The following steps make up the full SAP Integration Solution we'll use to work on your project.
Interacting with clients to understand their software integration needs.
Identifying and document the specific requirements and desired outcomes.
Evaluating the technical and practical feasibility of integrating the required systems.
Analyzing potential challenges, risks, and constraints.
Determining if the integration solution is viable and beneficial for the enterprise.
Designing the overall architecture and framework for the integration solution.
Defining the components, modules, and data flows involved.
Determining the appropriate technologies and protocols for seamless integration.
Creating an intuitive and user-friendly interface for the integrated system.
Ensuring efficient and effective interaction between users and integrated components.
Considering usability principles and design best practices.
Implementing the integration solution based on the defined architecture and design.
Developing the necessary code, scripts, and configurations.
Designing and implementing the required database structures and data mappings.
Conducting rigorous testing to validate the integration solution.
Performing functional testing to ensure all requirements are met.
Performing performance and load testing to assess system scalability and stability.
Identifying and fixing any defects or issues.
Preparing the integration solution for production use.
Coordinating with clients to ensure smooth installation and configuration.
Providing ongoing support and maintenance for the integrated system.
Address user queries, issues, and enhancement requests.
Monitoring and optimizing the system for performance, efficiency, and security.
Implementing updates, patches, and upgrades as necessary.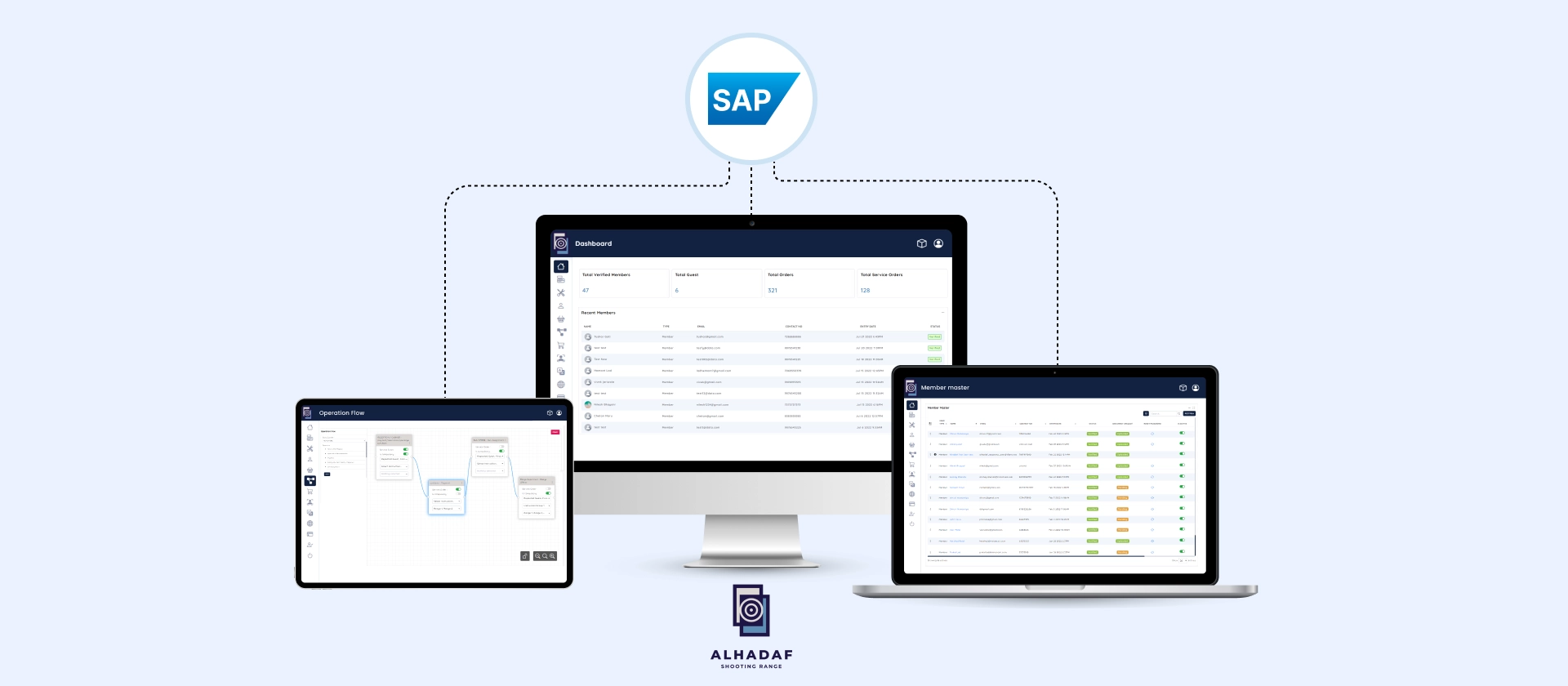 Requirements
Alhadaf Shooting Range, aimed to streamline their operations by implementing a Point of Sale (POS) system while keeping their backend ERP on SAP. They desired an Android POS application that would allow users to create customer profiles, assign guns, bullets, and lanes.
The solution needed to encompass their cafe, inventory management, user flows, instructions, and more.
Solutions
Instance IT Solutions devised a comprehensive solution by developing an Android POS application that allowed users to effortlessly create customer profiles and assign resources. Furthermore, it facilitated efficient management of the in-house café operations.
The solution included robust features such as inventory management, user flows, and detailed instructions. To ensure data accuracy and eliminate human errors, the POS application was seamlessly integrated with SAP, enabling automatic reflection of transactional details in real-time.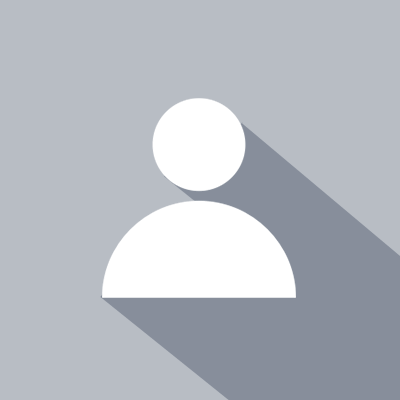 Mahiyab
"Instance IT took our complex SAP operation to very simple forms. They are so well at optimizing and automating business operations and have a good understanding of SAP's every prospect, which helped in overall development time duration. They just don't compromise the quality and deadlines. "

Identifying Client Needs.
Exceeding Client Expectations.
00k+
Hours of Development
Streamlined Operations
Our SAP ERP implementation optimizes and automates your key business processes, leading to streamlined workflows, and reduced manual effort. Experience seamless integration across departments, elimination of data silos, and enhanced productivity.
Enhanced Data Visibility
With SAP ERP, gain real-time access to accurate and comprehensive data, empowering informed decision-making. Leverage advanced analytics and reporting capabilities to analyze key performance indicators, track business metrics, and identify growth opportunities.
Improved Collaboration
Providing a unified view of customer data. By integrating SAP with enterprise systems and front-end applications, we enable a seamless flow of information, this allows for personalized customer interactions, timely responses to inquiries or issues, and the ability to anticipate customer needs.
Integrating SAP with your enterprise systems can provide several benefits. It enables seamless data exchange between different departments, streamlines business processes, improves data accuracy, enhances decision-making through real-time insights, and supports efficient collaboration across the organization.
Common integration scenarios for SAP include integrating with HR systems for employee data synchronization, integrating with CRM systems for customer data consolidation, integrating with financial systems for accurate financial reporting, and integrating with supply chain systems for seamless inventory and procurement management.
Yes, all our SAP integration is always tailored to align with your specific business needs. Instance It SAP integration provides a range of integration options and tools, allowing you to customize the integration to your unique requirements, system landscape, and processes.
After SAP integration, it is important to have maintenance and support to ensure the smooth functioning of the integrated systems. This includes monitoring the integration processes, performing regular system checks, and addressing any potential issues or errors that may arise. Additionally, as your business evolves, you may need to make adjustments or enhancements to the integration setup.
We are trusted by over 650+ clients.
Join them by using our services and grow your business.
Get a Quote