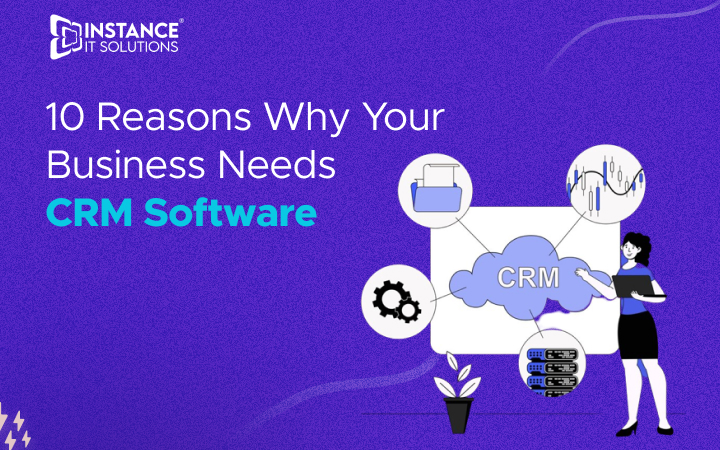 Introduction
In the fast-paced and constantly evolving business world, staying competitive and maintaining excellent customer relationships are indispensable for business development. However, establishing such relationships may be quite challenging. This is where Customer Relationship Management (CRM) software comes in to help!  
The Customer Relationship Management System has become a revolutionary tool in this digital age, redefining how business executives engage with customers, streamline processes, and promote overall growth. From startups to large enterprises, company owners worldwide use CRM software for business to gain a competitive advantage and advance customer management strategies.  
Only 12% of organizations implemented cloud-based CRM in 2008; this proportion has already risen to 87%! Of course, this change in the pace of CRM business has other factors behind it. And most importantly, 92% of companies claimed that CRM is a crucial tool in accomplishing revenue targets.   
Likewise, businesses that have successfully integrated their CRM indicate a 45% return on investment for each dollar spent. If you aren't yet using CRM software for business, this could be the perfect time to consider getting one.   
However, there are several factors to take into account when selecting the best CRM for small businesses or established global corporations. In this blog post, you will explore the top 10 reasons why your business should invest in one of these software solutions.  
10 Reasons to Use CRM Software for Business
Organized business processes    

Automated sales processes      

Better customer acquisition     

Decreased conversion cost      

Enhanced lead management      

Easier follow-ups and tracking      

Streamline customer support service    

Effective communication    

Rich analytics and reporting    

Downsized IT infrastructure expenses
Organized business processes
Traditional methods of manually organizing the data or using spreadsheets are ineffective, time-consuming, and increase organizational expenses due to repetitive, monotonous operations. By adopting CRM software for business, you can store data in a single centralized database to perform business operations more efficiently and systematically. It offers automatic follow-up operations with potential clients and enhances customer relations by integrating multiple communication channels such as email, WhatsApp, SMS, and social media. CRM may help you manage your business's operations in a more organized way.  
Automated sales processes
Manual sales procedures may be lengthy and vulnerable to mistakes. Using CRM software for business is very helpful in efficient sales team management. It automates an entire sales procedure, from identifying the possible lead, effective communication, scheduling an appointment, follow-up calls, and creating follow-up reminders. The CRM dashboard increases the effectiveness of the sales team by helping them to get a detailed view of the sales process. By increasing productivity, this automation frees up the sales team members to concentrate more on attracting new clients.
Better customer acquisition
When you start using CRM software for business, you can improve customer acquisition tasks for salespeople. Use CRM data to enhance prospecting and lead nurturing. It also helps streamline regular sales operations such as data entry, quote generation, and other repetitive duties that keep them away from customers. You may organize all customer-related activities with a CRM, including automated welcome messages, service, and checkout. You can also deliver satisfactory and efficient customer services using multi-channels such as email, phone, social media, web forms, surveys, etc. that will better your consumer base.  
Decreased conversion cost
Businesses must first streamline their sales procedures and boost their sales lead generation rate to raise the sales conversion rate. CRM software for business could be one of the most valuable tools for achieving these goals. It also improves sales conversion rates by keeping track of leads, allocating leads to sales team members, executing regular follow-ups and conversions, and providing customer support. According to data, you may boost your sales lead generation and conversion rates by up to 30% by automating some or all of your sales processes.
Enhanced lead management
Getting new clients is critically important for the growth of any business. A substantial amount of sales and marketing resources are spent to generate quality leads and convert those relevant leads. CRM software allows you to acquire, organize, and prioritize prospects effectively based on their conversion potential. Your sales team may focus on the most promising prospects by centralizing lead data and conversations. 
Easier follow-ups and tracking
When you utilize CRM software for business, follow-ups and tracking, become much more manageable. All the lead data is maintained in one central location in a CRM, and all the lead stages are identified clearly. Setting reminders allows sales employees to manage follow-ups more effectively, ensuring no follow-ups are missed. Follow-ups may be carried out through email, WhatsApp, SMS, or phone call from anywhere in the world. CRMs provide such powerful tracking capabilities that management can monitor the performance of each team, such as sales, marketing, and customer service. 

Streamline customer support service
Providing excellent client service is essential for keeping customers satisfied, and CRM software for business enables you to manage customer support services effectively. Addressing customers' questions, problems, and complaints can become very simple as CRM software offers a centralized repository for all customer data. It also helps you keep your customers happy by providing personalized attention to them. 
Effective communication
Effective communication is essential for successful business operations. The customer management system gives you access to a centralized platform where all your client's data and the team's workflow are organized and displayed. It provides communication history with clients that help you with the necessary information for better client conversations. This integrated approach prevents redundancy in activities and eliminates misunderstandings. As a result, it enhances the overall connection with your customers and strengthens internal communication between the sales, marketing, and support teams.
Rich analytics and reporting
With the help of CRM systems, you can conduct an in-depth analysis and get clear insights into each procedure, each client's performance, the overall sustainability of your client management strategy, and financial data. So, you can identify problems in your CRM strategy and gather all the data of your leads and customers for data-driven reports. Employing CRM software for business can help you create comprehensive reports, including tabular and graphical reports. It is possible to process this data accurately and quickly. Further, you can get advanced reports for sales analytics, campaign results, trendlines, sales cycles, daily dashboard data, win percentages, and deal failure causes.  
Downsized IT infrastructure expenses
Modern CRM platforms often operate in a cloud environment, reducing the need for an extensive on-premises IT infrastructure. Working with a cloud-based CRM system can lessen the requirement for dedicated IT personnel, hardware costs, maintenance costs, and maintenance expenditures. Additionally, the scalability feature in cloud CRM software lets you adjust resource allocation according to evolving business demands. 

How Can Instance IT Solutions Help You with CRM Software?
Our Customer Relationship Management (CRM) software development company helps your businesses by delivering solutions that simplify various customer management processes, consequently enhancing your business efficiency and productivity. Here you can learn how Instance IT Solutions can help you with CRM software: 
Customized CRM Software for business needs 
Instance IT Solutions specialize in developing CRM software tailored to your business, such as Fintech, Import/export, Hospitality, Real Estate, and Restaurants. Our skilled developers collaborate together with clients to comprehend their unique requirements and create a CRM system that supports their procedures and objectives. Our specialized CRM software works well for your industry, workflow, clientele, and other factors. As a result, you will receive a CRM tool that is perfectly compatible with your business's operations. 
Automate Marketing Process   
We provide CRM solutions that can help your business to streamline repetitive sales and marketing processes, such as email marketing, monitoring leads, automating client follow-ups, sales forecasting, and lead generation. Therefore, your business marketing employees may concentrate on more strategic tasks because there is less manual work involved.  
Sales Pipeline Management   
Our highly effective CRM system optimizes sales procedures and delivers functions for managing and monitoring the sales pipeline. Adopt CRM software for business that enables you to create and automate workflows, track leads, opportunities, and closed deals, as well as configure sales funnels. This visibility encourages your sales teams to strategically focus their efforts and boost sales productivity for revenue growth.  
Enhance your Customer Support Service    
Small, medium, and large organizations can benefit from our powerful CRM system, which performs well in customer relationship management. It allows for more effective customer support service by providing a consistent platform for managing client interactions. This helps your businesses respond to customer complaints more promptly and effectively as a result. Hence, you can witness an increase in customer satisfaction and loyalty.  
Our unified cloud-based CRM platform can be easily integrated with existing applications or other software you use for your business, including email, ERP, and other marketing automation solutions. It ensures seamless operations and smooth data transfer between various departments, minimizing the possibility of errors and data duplication.  
Efficient Customer Data Management  
Our comprehensive customer relationship management software assists you in organizing and managing customer data effortlessly. It helps you keep track of interactions with customers as well as earlier deals, preferences, and other important details. So it will be easier for your team to access and evaluate client data. Additionally, this information can be used to make well-informed decisions and develop effective marketing strategies. 
INSTANCE IT SOLUTIONS offers full-featured CRM software that scales to more advanced sales, marketing, and client support service features, all crucial aspects to keep your customers satisfied for a long period. Even more importantly, it establishes a strong basis for your business procedures. If you wish to discover more about the tools and functionalities of our powerful CRM offers, consult now! 
Conclusion
Implementing a reliable customer relationship management (CRM) system is a worthwhile investment for the success of your business. From enhancing lead management to increasing customer acquisition, CRM software offers a variety of opportunities to simplify your business processes.  
Whether you're an experienced entrepreneur or just starting your business journey, CRM systems can help you revolutionize client interaction and boost overall productivity. So, it's time to take your customer relationships to new heights with Instance IT Solutions, as our custom CRM development approach empowers you to engage with your clients throughout their journey successfully.  
We are trusted by over 650+ clients.
Join them by using our services and grow your business.
Request a callback