What is Metaverse? What Will Be The Impact Of It On The World?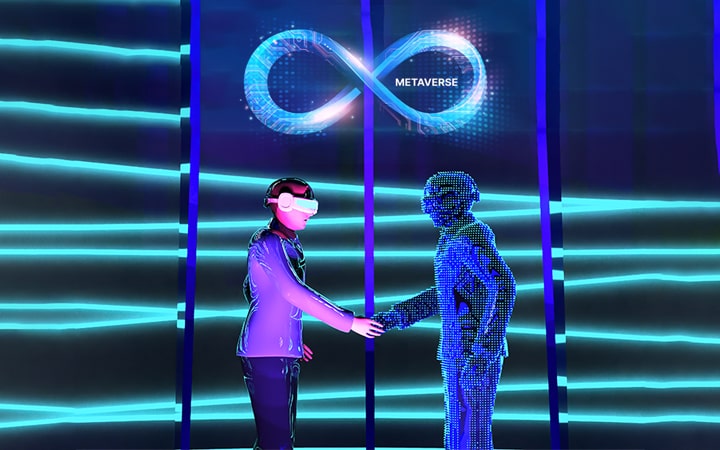 Introduction
Metaverse: A place where users can play, meet, work and socialize. It will effectively change the way people communicate. Metaverse is nothing but different elements of technology. Virtual reality, augmented reality, and video are all included.
The Metaverse's creation has brought a new revolution to the internet world, allowing anybody to communicate and even spend their lives on the internet, with all of their real-life actions reflected in this platform. Many people still believe that this notion is impossible. Still, the truth is that most of them have begun to adapt it in the shape of games and virtual meetups on various platforms, resulting in the creation of an excellent basement for new ventures.
Key to Metaverse: NFT
Before we proceed further, let us know what is NFT and what NFT Stands for non-fungible tokens. It is a non-interchangeable unit of data stored in a blockchain, a kind of digital asset that belongs to you and only you.
It has been a hot topic of 2021 and its trend is still gearing up. It is believed to increase youngsters' interest in NFT in 2022. It is said that NFT is the key to metaverse as it will solve the problems which arise in metaverse environments. Let's see how would it solve the problems. 
As said before, NFTs are digital assets and are minted on a blockchain that brings all the digital assets required for the virtual world and based on it there are various effects of blockchain that transform the virtual world, and all the virtual products will be listed and sold on the specific metaverse NFT platforms. Let us discuss how metaverse will change the world. The predicted Businesses in virtual world are explained below.
1. Rise of the Crypto Metaverse
The virtual world has the potential of social and financial. The most convenient method to shop and travel around the world is using cryptocurrency. Each metaverse will have its own cryptocurrency. I will use it to purchase any and everything within a specific metaverse. The more that metaverse expands, the more valuable your crypto within it becomes.
2. Virtual Real Estate
Do you know you can buy, rent or sell properties in virtual space? Metaverse allows you to do so. It offers many opportunities to digital real estate investors. The ownership is provided through NFTs and the transactions take place through a digital wallet. Many property deals are taking place nowadays and some of the deals have made headlines with a record of million-dollar transactions.
3. Advertising Will Move Aggressively into The Metaverse
Nowadays, more and more companies expecting to move to the metaverse, marketing and advertising industry will also reshape. Just like we see the advertisements on streets and billboards, we could see the same in the virtual world. We could see the advertisements of the products and services that exist only in the real world or for the products that exist only in the metaverse.
4. Concerts and Events in Metaverse
In metaverse, you can attend events and concerts anywhere in the world while sitting at your home. Not only you will be able to hear the music clearly, but you will be able to chat, dance and sing with your friends or strangers next to you.
5. Business Meetings in Metaverse
Nowadays, virtual meetings have become a norm. It looks like in the near future; meetings will take place virtually but with a more immersive experience. It is also said that you can attend office meetings in metaverse in the near future. 
According to Bill Gates prediction, "in 2-3 years, most business meetings will be held in the metaverse."
Avatars of people sitting around a table discussing ideas could be used in the meetings. A slide show presentation on a large screen or a whiteboard with the endless area at the front of the room could be used for the meeting. Attendees at the meeting might utilize virtual reality headset technology to transmit their facial expressions to others in the virtual space.
6. Education in The Metaverse
Metaverse also enables educators to deliver content through creative and modern solutions. Students would be able to digitally tour campuses without driving for significant periods of time. Classroom in metaverse will be able to provide everything that a classroom in real life can provide in the near future. A board containing slide show presentations or films will be placed in the front of the room. Students would be able to take notes with virtual pens using their hands. They would be able to ask questions by raising their hands. A student may be asked to walk and write anything on the board by the instructor.
7. Travel the World in The Metaverse
Developers can use metaverse to construct a realistic interactive simulation of any location on Earth. Instead of paying for long-haul flights, you could utilize a VR headset to experience any location from the comfort of your own home. You'll be able to stroll around various landmarks and see 3D 360° views as if you were standing there in person. With this technology, you may experience any location, whether a tourist attraction or a hotel room.
8. Virtual Training and Skilling
In terms of time and resources, training and skilling people is an ongoing expense. The Metaverse can assist us in repurposing outdated training and skilling systems and processes. It can assist businesses by giving staff an easy-to-access, engaging hands-on training experience. Almost all types of occupations could benefit from metaverse training. However, industrial employees, construction workers, medical professionals, police, firefighters, pilots, and any other profession that is likely to be exposed to dangerous conditions may benefit from this type of experiential training.
9. Dining-out and Going-out Without Leaving Your House
In the metaverse world, you will be able to go to parks, museums, cafes and restaurants to meet friends and family. You would be able to visit private and public venues where you could hang out with your friends and participate in activities regardless of where you were.
Consider going to a restaurant and ordering food from a 3-dimensional menu. You place an order and pay with cryptocurrency, and the order is delivered to your door. It will allow you to share lunch or dinner with people without having to go out or see them face to face. You would be able to visit private and public venues where you could hang out with your friends and participate in activities regardless of where you were.
Conclusions
Today, many businesses are placing their bets on the metaverse. After all, why not? After the internet, this technology could be the next best thing. This technology can change the way we communicate and connect with one another. It can propel several sectors and economies around the world to new heights. While this technology is still in its infancy, it can be a valuable tool for a better future.
We are trusted by over 650+ clients.
Join them by using our services and grow your business.
Request a callback