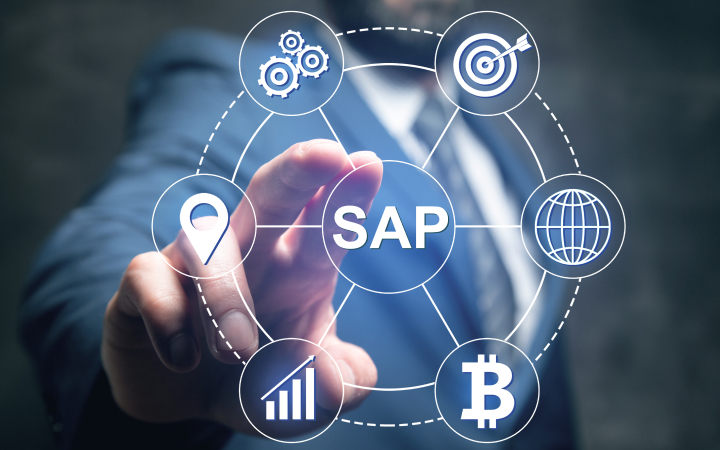 Introduction
Unlike other systems, SAP is a completely integrated software solution. It helps all-sized industries to handle business operations, intelligence, decision-making, and digitization.
Enterprise resource planning (ERP) software is the flagship of SAP. ERP products, SAP ERP Central Component (ECC), and S/4HANA have become the pinnacle for organizing and accomplishing business strategy. And 77% of the world's transaction revenue occurs through SAP. It requires deep learning for SAP, and it can be an overwhelming assignment.
SAP implementation services can support and ease the transition with SAP cloud solutions. It strengthens the businesses' digital transformation. It provides end-to-end help with planning, designing, creating, and deploying.
SAP implementation is capable enough to revolutionize global business with data-driven solutions. It would be best to install it properly through careful planning, knowledge, and skills. It assists the team of developers in supporting organizations. They form an efficient work background for all users by lowering errors, monotonies, and data failure.
Importance of SAP Implementation
According to research, organizations are experiencing a rapid digital transformation. 80% of data experts approved this research. They must employ reliable solutions to safeguard their acquisitions from data infringements during migration.
SAP implementation is an excellent option to transform your organization. SAP implementation supports organizations to
Enhance organizational capacities

Streamline critical operations

Drive past outdated technologies and implements

Establish solutions

Permit to evolve successfully
Today, business technologies and digitization are developing rapidly. It has raised competition across several global industries, so organizations must grow constantly. Organizations adapt to varying anticipations and strategies to persist in this new environment. They are expanding more significantly daily along with their business operations. Hence, SAP implementation is crucial for an organization's constant capability. It also manages the logistics and technicalities of business functions and data management.
However, SAP implementation is a problematic task. The best implementation plan can support you in executing your project smoothly and flawlessly. Implementing an SAP or any other ERP is a big project that demands multiple resources, expertise, and grind.
Steps for SAP Implementation
Step 1: Project Preparation
The first step involves identifying your organization's requirements, segments, and limitations. You need to make below strategic decisions for your project:
Describe your project goals and objectives

Explain the scope of your implementation

Represent your project schedule, funding plan, and execution sequence

Specify the project organization and appropriate representatives and allocate resources
This step also encloses preparing personnel assignments and an initial possibility timeline.
Step 2: Business Blueprint
You design a blueprint using the Question & Answer database in this phase. This step verifies your company's necessities. It demonstrates how your business operations and the organizational system must coexist in the SAP System.
You also refined the original project goals and objectives and revised the overall project schedule in this phase. SAP has illustrated a business blueprint phase to support extracting relevant details about your corporation. And that is essential for implementation.
These business blueprints are questionnaires. It is a probe for information that reveals how your company accomplishes business. It also serves to record the performance. Each business blueprint record virtually summarizes your future business procedures and business requirements.
Step 3: Realization
In this step, you create the conditions included in the Business Blueprint. The other significant areas of this phase:
Integration execution trials and marking up end-user documentation.
The Realization phase consists of two parts.
Your SAP consulting team supports you in configuring your baseline system is known as the baseline configuration.
Your execution project team fine-tunes that design to fulfil all your business and procedure needs as part of the fine-tuning configuration.
Step 4: Final Preparation
As the name suggests, the final preparation phase encloses activities demanded to schedule both systems and your team. You finalize your preparations, including testing, end-user training, system management, and cutover actions. If required, an SAP implementation partner will complete any modifications for an entire migration to the SAP systems.
Everyone linked with the SAP implementation should be prepared to carry out daily operations according to the new processes. At this stage, you must ensure that everything is ready and that all the requirements for your system to go live have been fulfilled.
Step 5: Go Live and Support
You move from a pre-production domain to a live system in this step. It is the most vital stage of SAP implementation. It includes data migration, setting up production approval, monitoring system transactions, and optimizing broad system interpretation. The older systems are not operated after all the data migration to the new SAP system.
The support team performs frequent tests to check whether it works smoothly. If potential issues happen, they resolve quickly with little downtime because going live may only take a day or so. They also help the users to get used to the SAP systems and applications whenever required.
Best Practices Tips for SAP Implementation
Focus on Processes
You have to set operations at the core of your implementation plan. Often, when a new system is implemented, the focus is on critical features and functionalities. There needs to be more focus on processes affected by the latest designs.
A transformative SAP ERP system will immensely influence your functions and people. Therefore, you need to consider the risks, prerequisites, and adjustments. It is required to sync the system and processes for better outcomes.
Build a Team
The success of SAP implementation will majorly rely on your employees. People with cross-functional expertise, team leaders, and powerful affirmation should be in a team. The team must have administrative buy-in and time to focus on the project solely. SAP implementation is a high-value project; failure can be costly, so devote your best efforts to it.
SAP Implementation Partner
Encounter a suitable partner who can bring out implementation. You may need to attain all the internal expertise within your organization. An SAP implementation partner works to implement SAP successfully.
A qualified SAP implementation partner will use their technical knowledge and business understanding. They navigate the different challenges in the implementation plan and ensure completion on time.
Before signing the deal, verify that an SAP provider understands your business. Confirm that they have experience working with companies of your size and ask for references.
Train Your People
Your people would need the training to use the SAP system optimally. SAP is a broad software with numerous modules and operations. Your project team, IT team, and end-user would require training. SAP implementation would demand to change in working style and perspective. So, ask your people to prepare for leveraging SAP in routine work.
Setup Communication Flow
SAP implementation will affect your organization from marketing to HR to procurements. This high-value commission will maintain your top leadership interest. And they would appreciate quality updates.
Alter your whole project into essential milestones. Create a contact flow, so everyone in your company understands what's happening. A weekly assessment meeting is also beneficial as it bypasses pitfalls and reviews the project's progress.
Test the System
Often ignored, but end-user testing is a critical step in any implementation plan. Test the system with actual end-users and ask them to try the system's full capabilities. Remember to test the new system with your end users. It will allow you to identify early-stage problems and improve them before SAP goes live.
Keep Change Orders Under Check
Create an implementation plan evaluating all aspects. Expectations and strategies are critical for timely and successful SAP implementation. Still, there will be cases when you need to change the program and fit some additions to the project span. Observe the changes, so your project scope is at most a point and chances of project delays.
Manage the Change
SAP implementation will carry considerable transformation within your organization. It will cause automation, make data attainable across your organization, and quicken procedures. Only some people in your organization would be ready to change. Specify members who can go through the change and ask them to inspire people who could be more eager about it. Reveal them early outcomes and how SAP will assist them in organizing and improving their regular work.
SAP Implementation Success Rate
SAP applications are the backbone of every industry. So, all business people put in enough effort to make SAP implementation successful. But multiple SAP implementations fail despite all these steps and actions. The possibilities of success with SAP are 50-50.
Companies spend millions of dollars on these implementation projects. But the connection between the implementation and the actual business processes is different. Hence some SAP projects fail. The service provider with whom you work results in the SAP implementation success.
According to the latest study, businesses have less than a 50% chance of an SAP implementation, considering what it offers.
Conclusion
These guidelines can be highly advantageous for organizations. Organizations can simplify and reduce the total cost of SAP Implementation using an SAP service provider. An SAP service provider needs to have a deep technical knowledge of SAP and thoroughly comprehend your objectives. You can achieve all your business goals with better quality control and management.
Choose the right SAP Provider to bring the appropriate start and ensure success. You can connect with Instance IT Solutions to get the best SAP services. We are a global SAP partner with extensive knowledge and strong expertise in the entire SAP product field. We have assisted many organizations in delivering top-notch SAP implementation services.
SAP Implementation takes months or years to execute correctly. It requires a broad understanding and expertise in building and designing an SAP landscape. In the long run, SAP implementation is essential in simplifying and providing a competitive edge that revs organizational growth.
We are trusted by over 650+ clients.
Join them by using our services and grow your business.
Request a callback