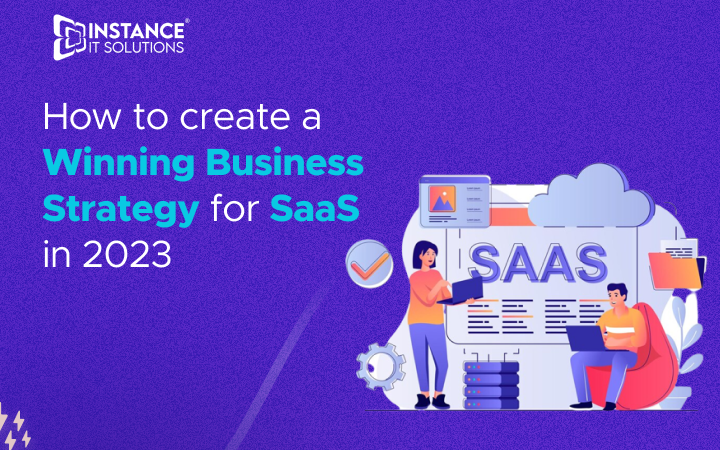 Introduction
The Software-as-a-Service (SaaS) market keeps evolving as many organizations use cloud-based solutions to satisfy their software demands. The estimated worth of the worldwide SaaS market in 2022 was $170 billion, and by 2028, it is predicted to reach $333 billion.    
In the highly competitive environment, it is necessary for SaaS businesses to create winning business strategies that may help them stand out and achieve success in 2023. But what exactly is a successful SaaS business strategy?    
Certain fundamental concepts may help you develop a successful plan, but it relies on your specific business. In this post, you'll examine the primary aspects of a successful business strategy for SaaS enterprises functioning in the dominant marketplace.    
Steps to Create a Winning Business Strategy for SaaS in 2023
With this ever-growing IT industry, SaaS businesses may put themselves in a successful position by emphasizing the best ways possible for business strategy. Consider below key highlights to promote and grow your SaaS business in 2023:  
Define the target audience   

Conduct Market research   

Identify your positioning     

Set realistic goals and establish KPIs     

Leverage digital channels for marketing   

Establish a personalized strategy at every stage of the customer lifecycle    
Define the target audience
Initially, you must determine your target audience and what they require. Carry out a comprehensive analysis to identify what are the different solutions which can satisfy their requirements or what are the gaps in the current market and existing solutions that you can fill.  
It's better if you can be as specific as you can. It can help you develop a communications strategy that effectively responds to the wants and desires of your target audience.    
Creating a user persona will help you do this. The graphic representation of the customer base, supported by data, may help you better understand your target audience. It contains data on demographics, behaviors, objectives, and pain points.    
It is necessary to comprehend a user's issue and how your product will assist them in resolving it if you want to create products that are more compelling to that particular target market.    
Doing as much research as possible into your target market is crucial. You may accomplish this by looking at your present customers and learning more about who they are, where they are from, what demands they have, etc.    
To learn more about what your target audience wants from you, try performing primary qualitative testing with them. You can accomplish this by,    
Surveys    

In-person interviews    

User groups (focus groups)
Conduct Market research
Conduct market research to identify the competitors. Market research is equally important as the target audience. It allows you to understand your competitor's strengths and deficiencies, as well as how they advertise themselves.    
In reality, around 14 billion SaaS firms compete for the same consumer base, so you must first identify your competitors and then discover how they differ. You may utilize the collected data to design a better product marketing strategy that will make you stand out from other businesses.    
For market research, you may use several kinds of techniques, such as,    
Looking for similar products in the same area   

Analyzing your clientele to learn what they expect from a product similar to yours    

Making a list of rivals, together with details on their strengths, weaknesses, and marketing plans    

Assessing their online presence, which includes their website, social media platforms, and customer reviews.    
When you thoroughly understand the market and competitors, you may develop a strategy that will be effective for your product. It's necessary to remember that products constantly evolve and have a lifespan. You must consider how long their product has been available in the marketplace, where it is now, and where it might go in the future.  
Identify your positioning
Identifying your product's positioning will help you define its market niche. It illustrates who you are, what your product accomplishes, and who it benefits. You may create clear expectations by defining your product or service's primary significance and competitive advantage through positioning.    
Consider the following when you define your position:    
What issue or problem does your product address?    

Why does it rise above those of the competition?    

How does it make life simpler for users?    

Why is it different from others?    
Once you understand your product's benefits and worth to consumers, you can place it in the market. The next step is to establish your Unique Selling Proposition (USP).   
Your USP is what separates your product from competitors or why buyers should select your product over others. Your USP should be clear, concise, and simple to comprehend.  
Set realistic goals and establish KPIs
The main objectives of your product are those that you have set. They have to be specific and measurable so that you may assess whether or not they have been accomplished.    
For example, if your purpose is to raise revenue by 15% in the following quarter, you may establish a goal of getting 4 new customers to sign up for your product or service during that time.   
When establishing goals, it's equally essential to set up key performance indicators (KPIs) so that you can monitor whether they've been achieved or not. Your KPIs metrics help you track the progress towards reaching your goal.    
A product marketing strategy might incorporate measures like retention rates, activation rates, and CACs (customer acquisition costs). These KPI measures should be consistent and relevant to your business, so the workforce understands what each one represents. 
After establishing these goals and KPIs, you may develop sales and marketing tactics to reach your target demographic.
Leverage digital channels for marketing
There are several digital marketing platforms available to advertise your SaaS product. Examples are social media, email marketing, content marketing, Search Engine Optimization (SEO), and paid advertisements. Every channel has different strengths and drawbacks, so you should choose a channel that resonates with your target market.    
Consider your target audience's behavior or preferences while determining the ideal marketing channel for your SaaS product. You might employ the following marketing platforms: 
Develop Content marketing and SEO
Content marketing is an integral aspect of any SaaS business strategy. It helps you build thought leadership in your industry and promotes your website traffic. You should include blog articles, whitepapers, case studies, and other types of content in your content marketing strategy that are valuable to your target audience.   
Follow standard practices for SEO to make your content more search engine friendly. Don't forget to share the content on social media to reach more people.  
Nurture leads with Email Marketing
Email marketing is an effective way to nurture leads and keep your brand foremost in the minds of potential clients. You may develop a lead-nurturing email sequence that provides value to your audience while motivating them to get involved. Depending on each subscriber's requirements and interests, use personalization and segmentation to tailor your messaging.
Invest in Paid advertisements
You can leverage digital platforms like Google Ads, Facebook Ads and LinkedIn Ads to reach the right customers. You should establish specific targets and monitor your outcomes to ensure that the advertising produces an optimal return on investment.  
Establish a personalized strategy at every stage of the customer lifecycle
While developing your marketing strategies, you must consider planning out your customer life cycle. Acquisition, activation, adoption, and retention are the four phases of the user life cycle. You have to establish the right techniques for every phase.   
This is an initial stage where you attempt to get new product consumers. You'll need a marketing approach to attract additional customers with different wants and requirements.    
You must optimize your website with better product details, positive user experience, and a clear call to action. The presentation of your product is an absolutely important factor. Your conversion rate is based on how you present the product's value.   
The customer lifecycle starts with the activation stage when your consumer realizes your product or service satisfies their demands. People have limited time for attention, and if they don't feel that your product provides value immediately away, they may never return. Consequently, you have lost a potential customer.   
That is why it matters so much to offer a user-friendly onboarding approach that guides users to fully comprehend the significance of your product and how to utilize it smoothly. It's also necessary to give a clear call to action that directs your consumer toward activation.    
Adoption and Retention Stage 
Adoption and retention are the following stages, which usually occur after the consumer has tried your product a few times. Once they've understood how to properly utilize it, they need more compelling reasons to keep using it instead of moving to a different tool.    
Here is where you should focus your efforts on your product marketing strategies for retention. To help them get the most out of your product, you may set up an automated email sequence to provide them with resources, templates, and guidelines. You may also inform them about your new feature releases and let them understand how they will receive extra benefits from your product.   
Use Data-driven channels for marketing decisions
Analyzing important statistics or data is another essential step for creating an effective marketing strategy for your product. For example, you should measure your post engagements, website traffic, conversion rates, etc.    
You can also apply A/B testing to refine your marketing campaigns and boost performance. Regularly evaluate and analyze your data to find areas that require improvements. You must invest in analytic tools and software for the best possible results, such as Google Analytics, SEMrush, Kissmetrics, Mixpanel, or other important tools.
Conclusion
Creating a successful SaaS business strategy involves an in-depth understanding of your target demographic, their problematic areas and how your solution can address their issues. For any SaaS business, an effective business approach is important for growing revenue, strengthening employee collaboration, and better comprehending customer needs.     
A winning SaaS marketing strategy combines multiple tactics, including content marketing, SEO, social media, paid advertising, and email marketing. Embrace these strategies, be agile, and consistently innovate to ensure your SaaS business thrives in 2023 and beyond!    
This guide will enable you to keep ahead of your competitors as you now understand how to create an excellent SaaS Business marketing strategy to promote your products. It additionally supports you in establishing a strong brand, and that's why you should have business strategies in place. 
Connect with us if you want to develop a winning SaaS Business Strategy for your organization's long-term success and growth! 
We are trusted by over 650+ clients.
Join them by using our services and grow your business.
Request a callback