The Benefits of Investing in Custom CRM Software for Your Business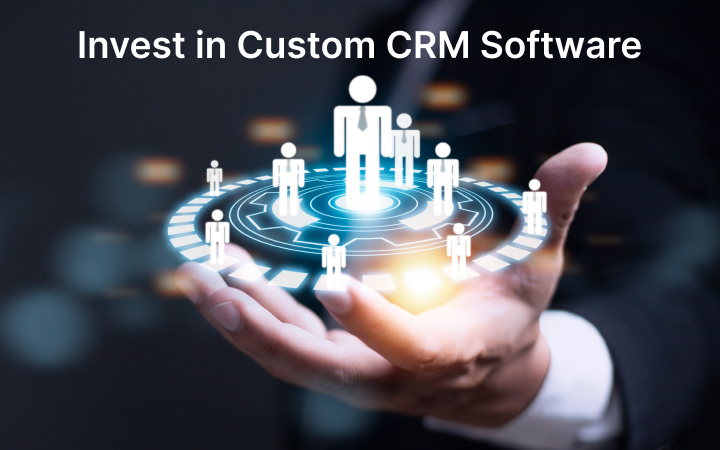 Introduction
CRM (Customer Relationship Management) continues to grow into a key aspect of any successful business in today's ever-changing environment.
CRM software has been developed to help organizations manage their customer relationships and improve overall customer satisfaction.
The market offers various pre-built CRM solutions, but there are many advantages of acquiring custom CRM software designed to meet your company's unique needs.
Businesses of all sizes progressively choose to invest in customized CRM (Customer Relationship Management) applications.
Businesses may streamline operations, strengthen customer relations, and boost revenue with the help of a customized CRM solution.
In this blog post, you'll explore the benefits of investing in custom CRM software for your business.
To maintain long-term relationships with your business clients, you might look into the potential benefits of custom CRM software.
Benefits of Investing in Custom CRM Software
Enhanced Customer Experience
A CRM system manages all aspects of the customer relationship, such as lead generation, sales management, customer support, and marketing.
With a personalized CRM, you can manage client interactions across numerous channels, including email, social media, and phone. That can help you better understand the customers you serve and their demands.
Businesses can improve their understanding of customer behavior and preferences by delivering a single source of truth for customer data.
Furthermore, custom CRM software may be helpful in the automation of certain customer service tasks, such as responding to frequent inquiries. It can allow you to respond to customer requirements more quickly and efficiently.
Consequently, business owners can target their marketing, personalize customer interactions, and increase the customer retention ratio.
Streamlined Processes
CRM platforms offer their users the benefit of process automation. And these users can experience streamlined operations throughout the entire organization.
Here are three streamlined process examples:
Drip campaigns reduce the time needed to email and nurture leads.
Personalized automation provides consistent, customer-focused marketing, sales, commerce, and service interactions.
Evaluating prospects based on specific factors you set or built-in AI, so your teams can better prioritize which marketing qualified leads, or MQL, can progress to sales qualified leads, or SQL.
Marketing departments can devour more time creating campaigns that resonate with the target audience, diagnosing data, and experimenting with different strategies based on analytics.
Customer service representatives have the time to interact with clients with more complicated requirements or questions.
An effective business could eventually offer better service to its clients - that's one of the main benefits of CRM software.
Increased Productivity and Efficiency
If you adopt customized CRM software, you may assign certain dashboards according to specific individuals and departments. It will meet your business's specific needs and workflows.
By spending less time on manual data entry and report generation processes, your staff may concentrate on more important tasks, such as delivering excellent customer service or formulating new products.
Custom CRM software helps you automate repetitive tasks and streamline processes that increase overall efficiency and productivity.
Simplified Collaboration
The customer relationship management system keeps track of conversations, interactions, requirements, records, and contact details - a huge advantage for delivering better customer-centric experiences.
And if it's cloud-based, it'll always be up to date, and everyone on your team can access information from anywhere.
Furthermore, some CRM platforms include communication and collaboration features that enable multiple people to work on the same file simultaneously or track the progress of a document, such as a sales quote, resulting in faster response times to customer requests.
Data Security
Data security is a major concern for businesses that handle sensitive customer information as cyberattacks are growing more frequent.
Custom CRM software can provide enhanced security features by delivering a system tailored precisely to your business's needs and data security prerequisites.
With a custom CRM, you may safeguard your customer data from cyber-attacks by implementing specific security measures, such as two-factor authentication and data encryption.
Additionally, it has data backup and recovery capabilities, access control, and other attributes that ensure the security of your customers' data against loss or corruption due to unauthorized access.
A custom CRM housed on a safe server and overseen by your IT staff gives you more control over your data and reduces the possibility of data breaches.
Higher Scalability
The need for CRM might shift as the business you run evolves. The ability of pre-built CRM solutions to scale according to your changing demands could have limitations.
On the other hand, custom CRM software allows you to scale the system to accommodate growth and ever-changing needs.
Accordingly, as your business expands, you can add new features and functionalities, such as new integrations or customized reports.
Custom CRM software, designed to integrate with your business's other software systems, can support streamlining processes and boost productivity.
It implies that your CRM system is effective and relevant throughout time, delivering a long-term approach to handling customer relationships.
Boosted Sales and Revenue
The ultimate goal of any organization is to increase sales and revenue, and customized CRM software may help in numerous ways.
An effective CRM system can offer useful insights into the behaviour, preferences, and consumer purchasing habits of customers.
It enables firms to effectively target their marketing campaigns, present personalized promotions, and upsell or cross-sell their products and services.
Businesses may automate sales processes with a customized CRM solution, reducing the time to close deals and growing revenue possibilities.
Conclusion 
All of the benefits mentioned above associated with custom CRM software demonstrate that investing in custom CRM software is an intelligent business move.
Most importantly, you can give your customers greater services and drive growth in the long run.
You may strengthen your ties with customers and gain a competitive edge over other businesses in your specific industry by establishing a system that is precisely customized for your business's demands.
By partnering with a reputed and experienced CRM software provider company like Instance IT Solutions, businesses can ensure that their CRM system is customized to their specific requirements and can grow with their business over time.
Contact us right now if you're interested in exploring more about a CRM solution that's been tailored just for your business.
We are trusted by over 650+ clients.
Join them by using our services and grow your business.
Request a callback