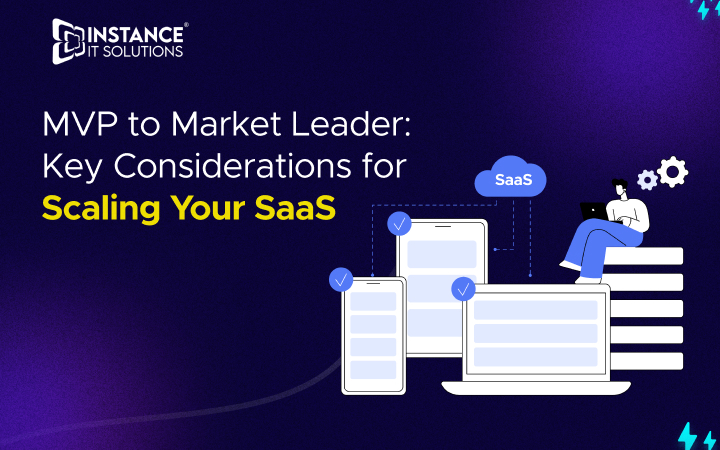 Introduction
From the MVP (Minimum Viable Product) stage to evolving into a market leader, scaling a SaaS (Software-as-a-Service) startup is an exhilarating challenge. As a SaaS entrepreneur, you've already built a strong foundation with your MVP, but now it's time to accelerate your startup to higher levels. Scaling your SaaS startup needs mindful planning, strategic decision-making, and a thorough knowledge of the SaaS market's dynamics.   
As you venture on this scaling journey and aim to establish your SaaS firm as a market leader, you must understand a few key considerations, which you will understand in this article. Scaling a SaaS firm entails more than just getting new clients. It is about developing a long-term and scalable business plan to survive the obstacles and expectations of quick expansion.  
You will examine various essential aspects for your success, from establishing a customer-centric strategy and investing in scalable infrastructure to promoting innovation and separating your product or service. You'll also get insightful knowledge and helpful tips to successfully manage the scaling process.   
Guidelines to Scale Your SaaS Startup from MVP to Market Leader 
Whether you're a founder, CEO, or leadership team member, this guide will provide the information and resources that you need to make well-informed decisions and set up a successful pathway. By comprehending and implementing these key considerations, you'll be competent enough to drive your SaaS firm from the MVP stage to becoming a dominating market leader.   
So, let's get started and explore the following guidelines to help your SaaS firm achieve more success:   
Table of Content: 
Sales and Marketing Strategies   

Talent Acquisition and Team Development   

Customer-Centric Approach   

Pricing Plan 

Constant Innovation and Product Development 

Financial Planning   

Scalable Infrastructure  

Established Partnerships   

Data-Driven Decision-Making  

Long-term Vision and Competitive Analysis 
Sales and Marketing Strategies
Excellent marketing and sales strategies are essential for expanding your SaaS firm and elevating your market share. Create a complete marketing strategy that includes targeted digital marketing promotions, content marketing, social media involvement, and SEO techniques.   
Utilize marketing automation solutions to simplify your marketing efforts and nurture leads throughout the customer lifecycle. Align your sales team's initiatives with marketing objectives to provide a consistent customer experience from their first interaction. Analyse and optimize your marketing and sales operations regularly to maximize client acquisition and revenue building.  
If Google advertising, Facebook ads, Instagram ads, and YouTube advertisements are actually beneficial, you should undoubtedly increase your investment in these platforms. Likewise, spend money on outbound marketing initiatives like trade exhibitions, print publications, television advertising, etc. 
Talent Acquisition and Team Development
As your SaaS firm expands, recruiting and retaining excellent employees to support your scaling initiatives becomes more important. Recruit individuals that have the abilities and knowledge required to advance your business's success. Search for team members who embrace your company's culture, beliefs, and vision.   
Cultivate a positive, collaborative work atmosphere that promotes innovation, creativity, and lifelong learning. Invest in training and development programs to upgrade your current team members and provide them with the skills and resources they need to succeed in their positions.  
Building an effective and integrated workforce is important for contributing to growth and keeping a competitive edge in the marketplace. For instance, the best possible team will strive to enhance your product, make suggestions for further development, and witness its progress towards production to maturity. 
Customer-Centric Approach
When it comes to establishing your SaaS company, a customer-centric approach is important. Understanding your target market's preferences and pain points matters most if you want to expand your customer base.  
Gather your consumer feedback regularly and analyze their use habits to discover improvement areas. To get insightful information that may inform your product roadmap and feature prioritization, engage with your customer base via surveys, interviews, and support channels.   
By consistently providing value to your customers, you may improve their overall satisfaction, raise retention rates, and attract new users via positive recommendations. For example, you may address your customer base by name or offer them personalized discounts, promotions, and services. According to studies, 72% of satisfied customers recommend their products to others.    
The satisfaction of customers has an impact on your company's KPIs. For example, it contributes to client lifetime value, which means customers will continue using your SaaS product for a longer period of time. Additionally, it promotes client retention and lowers the churn rate. 
Pricing Plan
When it comes to expanding your SaaS company, pricing is everything. You possibly have a great product, but if it is overpriced or too expensive, it will not sell. The market, your expenses, and the worth of your product to customers are just a few of the numerous variables that will affect the right selling price for your product.  
You might test out several options to determine which price plan best suits your clients. Instead of raising prices to increase the scope of your business, the goal should be to optimize and price your product effectively. The following is a list of the recent SaaS price structures: 
 
Usage-based pricing: It allows clients to pay for a product/service based on how often they use it, similar to a postpaid phone plan. 
User-count pricing: It costs a subscriber for each product/service user. 
 
Tiered-based pricing: It charges clients different costs depending on numerous features, advantages, or services. 
 
Flat-rate pricing: For a certain product or service, it applies a single, fixed rate. 
 
Per-feature pricing: The pricing of the product/service is determined by the features and functions provided to your clients. 
Constant Innovation and Product Development
Constant innovation and product development are necessary to maintain a competitive advantage and promote growth. Keep up with industry trends, evolving technology, and customer demands to find chances for product improvements or new feature development.  
Solicit your consumer base's input regularly and include them in creating the product roadmap. Use agile development techniques to iterate rapidly and effectively. Based on consumer demand and market factors, prioritize new features and upgrades.  
You can keep your current clients interested, draw in new ones, and set your SaaS service apart from the competitors by frequently introducing new and enhanced solutions.  
Financial Planning
It takes comprehensive financial planning and acquiring the right financing sources to scale a SaaS firm. Analyze your finances in-depth, looking at your projected cash flow, spending, and income sources. Consider customer acquisition expenses, customer lifetime value, and the cost of expanding infrastructure and employing staff.   
Investigate other financial alternatives, such as investment funds, angel investors, or strategic alliances. Create an effective business plan and present it to prospective lenders or investors to get the funds you need to support your expansion objectives.  
Use strong financial management practices to track costs, revenue, and cash flow successfully. Here are some of the essential parameters to monitor: 
Churn Rate 

Customer Acquisition Cost (CAC) 

Customer Lifetime Value (CLTV) 

Activation Rate 

Monthly/Annual Recurring Revenue (MRR/ARR) 

Growth Rates and Margins 

Conversion Percentages 
Scalable Infrastructure
You must invest in a scalable infrastructure that can navigate growing user demands if you want to support the expansion of your SaaS firm. Examine your present infrastructure and technology stack to find any possible inefficiencies or opportunities for improvement.  
Consider cloud-based platforms and services that provide scalability, dependability, and flexibility. Utilizing automation and monitoring technologies may assist with resource allocation, performance problem identification, and ensuring smooth operation at scale.  
You'll save time, effort, and possible interruptions if you construct a solid infrastructure early and as your client base grows. Creating scalable infrastructure still demands a high level of expertise. 
As a result, it makes sense to employ a software development company like Instance IT Solutions with the capabilities you need for your project.
Established Partnerships
Your SaaS startup's development may be considerably accelerated by establishing partnerships and working together with key partners. Find suitable partners with the same client base or complement your product line.  
Develop cooperative relationships that will help you to do cross-promotion, entry into new markets, or interaction with complementary services or products. Utilize trade shows, conferences, and networking events to establish connections with prospective business partners.  
In addition, working with well-established businesses in the market may help you with credibility, access to a bigger consumer base, and valuable resources to assist your scaling efforts. 
Data-Driven Decision-Making
Data is a useful resource for growing your SaaS business. Build a data-driven decision-making framework by using reliable analytics and reporting platforms. Get insights into user behavior, product use, marketing initiatives, churn rates, and client acquisition expenses by gathering and analyzing relevant data points.    
Use data visualization tools to convert large amounts of data into accessible insights. Based on this data, make informed decisions to optimize your product, pricing strategy, marketing campaigns, and overall business activities.   
Keep track of your key performance indicators (KPIs) at frequent intervals, set benchmarks, and analyze your progress to make any required corrections. Leverage this data from analytics tools to improve your product, marketing initiatives, and consumer interaction approaches. 
Long-term Vision and Competitive Analysis
Your SaaS firm should have a clear long-term strategy, but it should also be agile and responsive to shifting market circumstances. Keep working on your tactics, embrace agility, and be ready to change direction if required. Consider market feedback, new technology, and changing client demands as you continuously review and revise your strategies.   
Conduct market research to find underserved areas, direct and indirect competitors, their strengths, deficiencies, market positioning, or business sectors that might profit from your SaaS service. Make your marketing and sales strategy precise to these new markets' specific demands and preferences.   
To remain ahead of the competition, keep an eye on the market environment and adjust your differentiation approach as necessary.  
We are trusted by over 650+ clients.
Join them by using our services and grow your business.
Request a callback