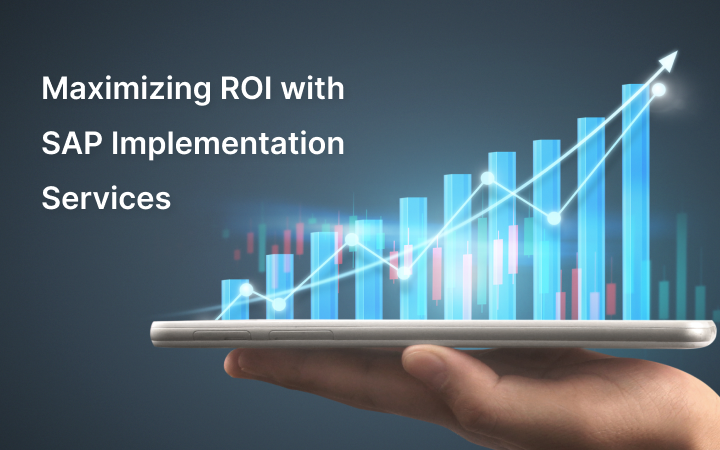 Introduction
If you run a business, you know the significance of growing your return on investment (ROI). Implementing SAP software solutions in your organization is one approach to accomplish this.
SAP (Systems, Applications, and Products) is a software application for organizing enterprise resources. Businesses can enhance productivity, cut costs, and streamline their operations with the help of SAP Implementation Services.
But how can you ensure that your SAP system is effective and delivers the desired ROI?
Maximizing ROI through SAP implementation requires accurate strategy, execution, and monitoring. SAP Cloud Solutions provides various benefits to enterprises, from cost savings to better efficiency and collaboration.
However, deploying SAP can need significant financial investment, and organizations must verify that they can generate a profit from the project.
In this article, you will -see how businesses can increase their investment with SAP adoption. Here are some tips and strategies for maximizing ROI with SAP Implementation Services:
Set Goals and Objectives for your Business
Specifying your business goals and objectives before venturing into an SAP implementation process is important. It helps you recognize critical business areas that need to improve with an SAP system. You should gain an in-depth knowledge of your business processes and identify the areas that will benefit the most from an SAP system.
This strategy can help companies select the most relevant SAP modules and functions for business operations. It ensures that you can get the most out of your investment by reducing costs, improving efficiency, or increasing sales.
Create Comprehensive Implementation Strategy
Creating a detailed implementation plan is critical for the success of the SAP implementation project. Project managers, IT personnel, and end users should all be involved in developing the implementation strategy. A project strategy should include all the below aspects:
Project scope: Define the parameters of the project and the SAP modules to be implemented.
Timeline: Create a timeline that outlines the project's checkpoints and estimated end dates.
Budget: Make a budget that covers all of the project's expenses, including hardware, software, consulting fees, and training.
Resources: Determine the project's necessary resources, such as staff, tools, and software.
Risks: Determine the possible risks involved with the project and create a risk management strategy.
By developing a thorough implementation plan, companies may guarantee they can complete/deliver the project on time and within budget.
Select the Right SAP Modules
To meet different organizational demands, SAP provides a wide range of modules. Selecting the most effective solution for your business becomes essential to getting the most out of your investment.
When choosing an SAP system, evaluate your company's size, sector, and specific requirements. Unnecessary module implementation can result in extra costs and complications that are not helpful to the organization.
Additionally, businesses should confirm that their chosen SAP modules work with their existing IT structure. You may choose the best solution for your business by working with a competent SAP Implementation Services provider.
Choose the Right SAP Implementation Partner
For the project to be successful, picking the best SAP implementation partner is necessary. Company executives should select a partner with experience deploying SAP systems in their industry and a track record of successfully completing projects.
The SAP Implementation partner should also offer training and support services for the organization's staff to operate the SAP system effectively. Before choosing a partner, it is crucial to conduct due diligence to ensure they can deliver on the set goals and fulfill the firm's standards.
Invest in Workforce Training and Support
SAP software can be complex, and the workforce must receive adequate training to adopt an SAP system successfully. So, investing in training and support can help your employees to use the new system effectively with the necessary skills, which makes the most of your SAP investment.
The training must be customized to the company's unique needs and cover all of the SAP modules that will be used. Also, employees should receive training on how to use the SAP system and reach the organizational objectives.
Monitor SAP Implementation
Once you've deployed SAP in your organization, you must regularly monitor how it works and ensure you receive the maximum ROI. Tracking key performance indicators (KPIs), analyzing data, and making changes as needed to increase efficiency and drive profitability can all be part of this.
You can also ensure the SAP system continues to function optimally by monitoring and reporting a system that sends regular updates on the project's progress and any issues that arise. Regular monitoring can help organizations avoid expensive downtime.
Summary
You can maximize your ROI with SAP and drive your business's growth by following the abovementioned tips and strategies. SAP software effectively streamlines business operations, improves work efficiency, boosts revenue, and drives long-term success.
Working with Instance IT Solutions will allow you to make sure that your SAP Cloud Solutions are completely integrated with your existing systems and procedures. With SAP Cloud Solutions, you can be confident that you are acquiring the most from your investment.
We are trusted by over 650+ clients.
Join them by using our services and grow your business.
Request a callback