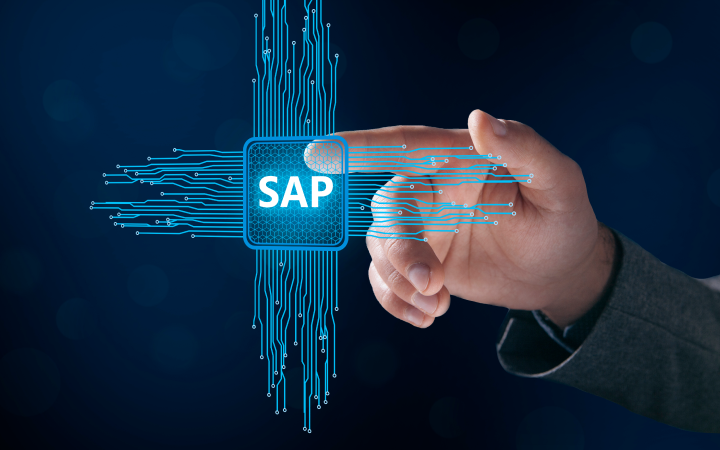 Introduction
SAP (Systems, Applications, and Products) is a well-known enterprise software company that offers an extensive amount of business solutions for multiple types of industries. SAP has been at the forefront of digital transformation for several decades and is highly prominent in the industry. Businesses have been making major investments in new technology to stay competitive over recent years. It helps businesses streamline operations, enhance customer experiences, and make data-driven decisions.
With technology evolving quickly, it's natural to ask what the future holds for SAP. Several developments and upgrades will influence SAP's future as we get closer to the middle of 2023. In this blog, you'll examine the most recent advancements and market trends in the world of SAP and speculate on SAP's potential future.
The Cloud Computing
Cloud computing is one of the important trends that will impact SAP's future. Since SAP has recently made significant investments in cloud-based services, it should come as no surprise that the cloud is where SAP will be in the future.

The cloud is a scalable, adaptable, cost-effective way to manage and store data. SAP's cloud-based solutions are designed to function as the platform for the development of products and services in the future.

Businesses may quickly develop and deploy cloud applications using SAP Cloud Platform, a platform-as-a-service (PaaS) solution.

In addition to analytics, machine learning, and Internet of Things (IoT) capabilities, the platform delivers a wide range of services.

SAP's cloud products are projected to grow more complex and comprehensive as organizations embrace cloud-based solutions.

One of SAP's cloud solutions' most important benefits is the ability to give organizations real-time data and analytics.

SAP's cloud-based solutions allow businesses to access real-time data from any location, anytime, and on any device.

Also, SAP is investing in cloud-based services for specific sectors, including manufacturing and healthcare. Businesses can manage their operations more successfully with the help of these industry-specific solutions.
SAP S/4HANA
SAP S/4HANA is an advanced ERP (Enterprise Resource Planning) system that provides real-time data and analytics to enterprises. It is becoming increasingly popular among organizations because it allows them to run their operations more efficiently.

Businesses can monitor and analyze data in real time with the help of SAP S/4HANA, which gives them a comprehensive perspective of their operations.

One of the most noteworthy highlights of SAP S/4HANA is that it can provide enterprises with real-time insights.

Real-time insights have become essential for organizations that must make informed decisions rapidly.

SAP S/4HANA helps businesses access real-time data from many different sources, such as social media, customer feedback, and sales data.

Additionally, SAP S/4HANA has been designed to be extremely flexible and scalable. The system is available for on-premises, cloud, or hybrid deployment.

Due to this flexibility, businesses can choose the deployment strategy that best connects to their requirements.

With SAP S/4HANA, organizations will be able to run their operations more successfully in the future. It is believed to replace other ERP systems as it enables businesses to process large volumes of data at lightning-fast speeds.
The Intelligent Enterprise
SAP's future depends on its capacity to deliver intelligent enterprise solutions. It can help businesses make informed decisions quickly.

SAP has been integrating artificial intelligence (AI) and machine learning (ML) into its products and services, allowing businesses to acquire insights and automate processes.

The purpose of SAP's intelligent enterprise solutions is to give businesses a complete overview of their business activities.

Businesses may utilize these solutions to monitor and analyze data from multiple sources, such as social media, customer feedback, and sales data. So, you can make informed decisions quickly based on this data.

Future versions of SAP's intelligent enterprise solutions are expected to use AI and ML to deliver real-time analytics and predictive insights that could help businesses create better decisions.

These innovations will enable businesses to automate procedures, save costs, and improve customer experiences.
SAP Leonardo
The most recent digital addition to the SAP family is called SAP Leonardo. This innovative system allows organizations to access various services and micro-services when integrated with the most recent technologies.

Modern intelligent technologies can merge systems like the Internet of Things (IoT), blockchain, Big Data, analytics, and many more.

The platform allows businesses to create and implement intelligent approaches to enhance their operations.

In the future, SAP Leonardo will become an essential aspect of SAP's services, allowing organizations to design and deploy intelligent solutions efficiently.

The platform is extremely adaptable and may be utilized in several industries, such as healthcare, manufacturing, and logistics.
Blockchain Technology
Blockchain technology is changing how organizations manage their operations and data.

SAP has been exploring blockchain technology for organizations to have a secure and more transparent means of organizing data.

SAP will likely include blockchain technology in its security solutions and help businesses handle their data more securely and transparently.

In the coming years, various industries will use this technology to manage supply chains, trace transactions, and promote transparency.
Conclusion
It's no secret that SAP's future is in the abovementioned latest updates because the company has long been at the cutting edge of enterprise software solutions.
Businesses that want to remain competitive in the market must be ready to accept and integrate emerging technologies into every aspect of their business.
It is expected that SAP's products and services will transform to match businesses' ever-changing demands as they use modern technologies in recent years.
The future of SAP depends on its ability to develop intelligent enterprise solutions that allow businesses to make well-informed decisions effectively.
We are trusted by over 650+ clients.
Join them by using our services and grow your business.
Request a callback