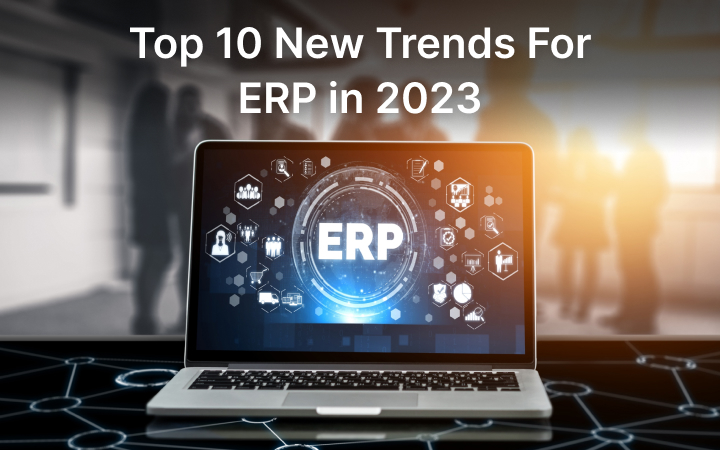 Introduction
Enterprise Resource Planning (ERP) solutions have developed and enlarged their scope to support a wide range of business operations, from front-office activities like sales force automation (SFA), marketing automation, and e-commerce to the back-office departments like accounting, HR, procurement, and manufacturing.
Businesses rely on ERP to cut costs by eliminating redundant processes, automating monotonous work, and giving employees essential information so they can make better decisions more quickly.
As businesses rely increasingly on ERP systems to run their operations, these systems constantly change to embrace new technology and handle a wider range of tasks.
These systems are extremely dynamic, incorporating the most recent developments to keep the businesses that utilize them at the forefront of their industries.
Complete Cloud Migration
Recently the popularity of cloud-based ERP has increased dramatically and shows no signs of slowing down. Although the advantages of cloud ERP have long been recognized, recent problems are driving up demand even further.
Many businesses are finding it difficult to compete and maintain profitability in rapidly developing industries, and as a result, they experience tremendous pressure to reform. They must be able to alter their path quickly, think creatively, and adopt new business models and revenue streams.
Cloud ERP software is the most efficient way to fully implement digital transformation and introduce new, more advanced business capabilities, as it impacts almost all aspects of an organization.
Changes in the workplace, such as a lack of talent, an abundance of resignations, and remote/distributed workforces, are also driving cloud ERP adoption. Both staff and freelancers believe they can work conveniently, safely, and with cutting-edge, engaging tools from anywhere.
With cloud ERP, businesses are hurrying to satisfy these expectations. The future of cloud ERP has never looked better as SaaS ERP service providers offer clients cloud capabilities to fulfill those aspirations.
They can focus more on what sets them apart today and what could set them apart tomorrow by leveraging cloud ERP to standardize their key business processes. In the previous few years, the overall revenue of the ERP software business has exploded.
As end-user activity for new and expanded ERP activity began to recover, most significant providers experienced improved revenue growth.
Mobile ERP Platforms
Mobile applications are not new to businesses. Overall, 78% of growing organizations reported that their staff members access business and work-related information on mobile devices while away from their computers or working outside the office.
Furthermore, 84% of businesses reported that mobile devices positively impact how they work. Mobile ERP has existed for many years. But it's transitioning from simple apps to intelligent, multi-device experiences.
With this more comprehensive type of mobile ERP, a user's tasks and to-dos follow them across every device they use throughout all hours of the day, including a laptop, desktop, mobile phone, smart home speaker, smartwatch, smart TV, or nearly any other device that can connect to the Internet. Furthermore, the experience is seamless because the system remembers where they left off.
AI and IoT integration
Nobody searches for "AI-powered ERP"; that phrase is simply for marketing purposes. Machine learning and artificial intelligence are significantly more nuanced than that. They are constantly working behind the scenes to enhance user experiences, insights, automation, and business processes.
Many ERP vendors now offer these capabilities integrated directly as a part of the ERP technology stack, whereas previously, many of these functions were accomplished through add-ons and integrations.
ERP and the Internet of Things (IoT) work well together to provide a variety of business advantages. An organization must implement an effective data-gathering strategy to utilize its ERP solutions and become fully competitive.
Fortunately, data collecting is made simple by the Internet of Things (IoT). Industry leaders and businesses recognize the value of integrating IoT with ERP systems.
Powerful ERP analytics
ERP systems have always collected data and offered basic reporting capabilities but have progressed well beyond those capabilities.
The old dashboards have been replaced with AI-powered analytics, data visualization tools, and even what-if analyses.
Today's strong ERP technologies and analytics not only give the data. But also supply context-rich insights, guide users' tasks, and flag anomalies. It sends an alert and invites the user to participate in the procedure when an anomaly is detected.
We've progressed to the stage where, with sufficient ERP analytics, the system can even act autonomously on behalf of a user.
Hyperautomation
Automation increased as businesses worked to make everything as contactless, secure, and effective as possible during the pandemic.
Hyperautomation, where companies use AI, machine learning, and robotic process automation (RPA) to automate as many operations as possible, has progressed from an isolated shift to the mainstream. The potential benefits of hyper-automation for businesses are enormous.
Companies can enhance previously automated processes in their ERP systems and implement new automation, resulting in faster speeds and improved efficiency throughout the organization.
With increased and more advanced automation, companies are also better equipped to deal with talent shortages, which frees up available people and resources to concentrate on more value-added tasks.
Personalized ERP
The personalization of ERP solutions is developing. Contrary to configuration, where fundamental settings like language, currency, and time zones are made, personalization focuses more on tailoring the software to a particular user's requirements. As a result, it works for people's needs in the best way possible.
With ERP customization/ personalization, the system is incredibly adaptive to a user's method of working through tasks. It can pick up on trends, preferences, and working methods; even it can suggest shortcuts that can make users more productive and efficient.
Users can customize software themselves with low-code/no-code personalization; support from programmers or developers is not necessary.
Industry-Specific ERP
ERP is nowadays necessary for even small- to medium-sized businesses to function.
Most of the top ERP software is not specific to any industry. They do this by providing a broad range of basic and advanced functions designed to address every kind of organization's requirements. However, it is noteworthy that the top ERP system differs significantly from its competitors.
Cloud ERP and other vertically relevant elements are included in industry clouds that combine infrastructure-as-a-service (IaaS), platform-as-a-service (PaaS), and software-as-a-service (SaaS) into a comprehensive, industry-focused solution.
They are entirely configurable, providing the versatility, functionality, and creativity required to meet extremely specific industry needs.
Fully Integrated ERP
Integration supports the ongoing evolution of organizations. It enables the automation of procedures and essential business activities, speeds up data sharing, and improves data analysis.
Integration eliminates duplicate data entry and unnecessary internal communication by integrating and aligning software with other systems, such as ecommerce platforms.
With an integrated ERP system, you can control all areas of your business's operations from a single application, ensuring that data flows smoothly throughout the organization and the right aspects of operations down to your accounting records.
Integrating processes and data increases productivity and enables more informed, data-driven decision-making. However, implementing integration projects remains a significant challenge for these businesses.
Two-Tier ERP
Although two-tier ERP has been in use for 40 years, it is becoming increasingly popular, making it a top trend for 2023. Businesses use two distinct ERP systems with two-tier ERP systems to meet their demands.
With two-tier ERP, businesses can operate their subsidiaries and business units on one different ERP solution (tier two), usually hosted in the cloud, while using their existing ERP resources at the corporate level (tier one).
Smaller business divisions may choose tailored solutions, while larger businesses may continue to use their primary ERP system for financials and other essential functions.
The effectiveness of this method depends on the tier's ability to share data; some tier 2 cloud solutions come pre-integrated with corporate ERP systems. Due to this, many businesses decide to use the same vendor for Tier 1 and Tier 2 ERP systems.
Greater Focus on ERP Security
Beyond the pandemic, 2020 (and afterward 2021) has significantly increased data breaches and cybersecurity attacks. Enterprise solutions, like ERP, are not designed to tackle security challenges presented by remote work because an important portion of the workforce works offsite.
The rapid transition to remote operations seems to have resulted in more serious data breaches. Systems that use a lot of data, like CRM and other connected systems like ERP, are therefore under a lot of threat. As a result, businesses are moving quickly to safeguard their ERP platforms.
Enterprise security is a top priority for businesses because the future of work greatly promotes dispersed, hybrid, and remote work environments.
We are trusted by over 650+ clients.
Join them by using our services and grow your business.
Request a callback