What Is New About Windows 11, Can Windows 11 Run Android Applications?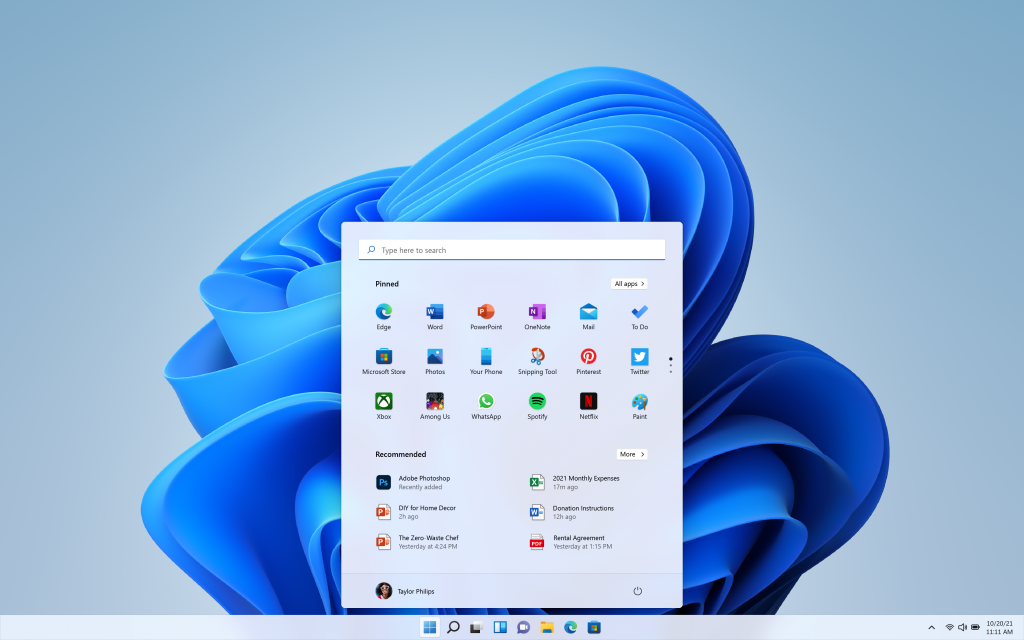 Introduction
"Windows" is a catalyst for innovation. It's an everlasting basis for every one of us to build on. Over a billion people use it to work, achieve their goals, and connect with the people they care about. Windows 11 has been launched and the entire user experience takes you closer to your passions, empowers you and motivates you to create more. Windows 11 gives a feeling of openness along with peace. It provides an environment where you feel home. 
What's New in Windows 11?
1. The all-new operating system comes with a new blue icon called "Bloom", inspired by flowers.
2. New span come up with straightforward navigation, easy organization and more efficient ways to be creative and productive. The user experience has been reinvented and simplified. The design is all-new yet immediately familiar.
3. There is great news if you would like to port your old PC's preferences to your new Windows 11 PC. If you have been granted permission to back up apps in the old one or windows 10, your new PC will allow you to load those apps instead of starting over. This can even apply to the settings and preferences you are used to. You can also transfer programs.
4. Start and Taskbar: New Start and Taskbar menu is situated in front and centre. You can search anything from the start menu, as it is a centralized search. And it is redesigned in a way that revolves around you. So, things get done with fewer clicks and swipes. Experience new visual elements, buttons, toggles, fonts etc., with Windows 11.
5. Snap Layouts and Groups provide a more assertive approach to multitask while also optimizing your screen real estate in a visually pleasing manner. Thanks to the new three-column layouts for larger displays because it has never been easier to have all the content you need at your fingertips perfectly organized. And Desktop Groups allow you to create an individual Desktop that displays different apps to help you keep organized and focused. In a way similar to how you may establish separate spaces in your house, you can even give each one its name and wallpaper.
6. Chat from Microsoft Teams will be a new experience with Windows 11. You can connect from your PC with any personal contacts regardless of what device they are on, i.e., computer, tablet, mobile and whatever platform such as iOS, Android, Mac or computer. 
7. Windows 11 has introduced a new personalized feed called Widgets. Your all in one place for quick information that matters to you, such as news, upcoming meetings and to-do lists. Enjoy the addition of these Widgets with a click or a swipe from the left. It is a smooth and seamless experience as Widgets slide across your screen like a glass sheet. Therefore, you don't need to find your content in separate apps, tabs and pages. Instead, you can see personalized content like reminders, sports scores, social media, weather, etc., at a glance.
8. Windows 11 offers new tools and resources to developers. It is built by keeping in mind the development process, tools used for the same, along capabilities needed. As a result, one can create apps using tools, frameworks and languages you know and love to do.
9. We all know the rapid acceleration of digital transformation. So in today's world, organizations have to be resilient and flexible. Windows 11 enabled hybrid work and so it is built on compatible and familiar Windows 10 foundation. Thus, it will be easier for IT companies to manage work.
Well, all the mentioned points were about feature and use experience kind of talk. So now let's jump on Can Windows 11 Run Android Application?
For creators, Windows is the most open platform. Windows 11 has announced a New Microsoft Store to showcase developers' best experiences, transparent and flexible model, and Android apps introductions.
"We are proud to deliver this experience with our partners – Amazon and Intel – to Beta Channel users in the United States on eligible devices running Intel, AMD, and Qualcomm platforms." said Windows.
Microsoft store search will deliver the best results available nevertheless of the technology used to build an app. While downloading, the Amazon App-store will guide you for the rest of the flow. Windows 11 can run Android Apps with the help of the Snap Layouts feature. Running an Android Application on Windows 11 is effortless and a familiar experience. The user experience is designed and Android apps are also integrated so that one can quickly move between the apps with Alt + Tab. You can access and experience Android apps through Windows Insider Program. 
Windows 11 has given some options of examples on what you can try. They are as below:
Mobile games: You can play popular mobile games such as Lords Mobile, June's Journey, Coin Master, and others.
Reading: On your Windows tablet, you may read your favorite book with Kindle or a digital comic series with Comics and swipe pages with the simplicity of a finger.
Kids content: Use the award-winning Khan Academy Kids to teach your child math, reading and writing abilities, or use Lego Duplo World to create new digital worlds.
We are trusted by over 650+ clients.
Join them by using our services and grow your business.
Request a callback